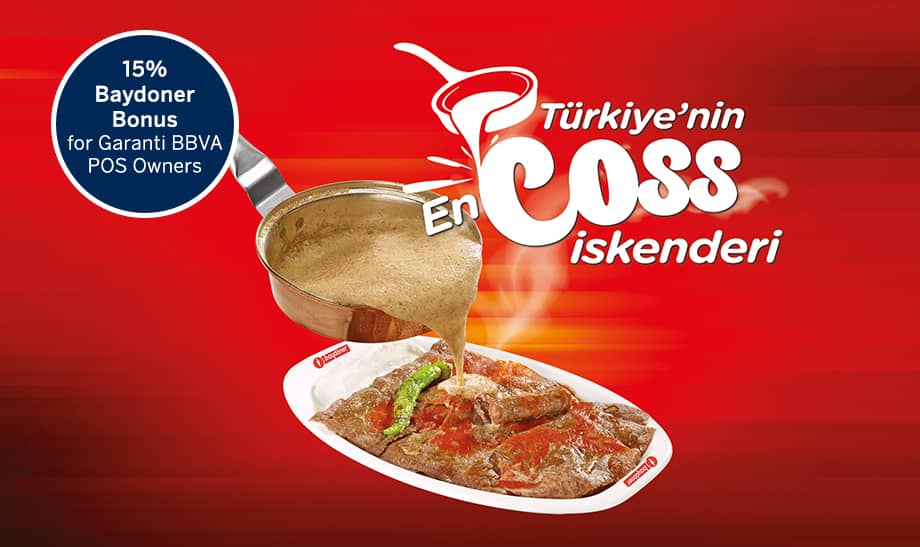 15% Baydöner Bonus will be earned for payments of 50 TL and above to be made at one time by Garanti BBVA POS at Bonus member Baydöner restaurants between September 13 and October 15. Earned Baydoner bonuses will only be available at Baydoner restaurants between October 19 October - 1 November.
The campaign includes transactions with Garanti BBVA commercial credit cards for customers in the micro, SME and OBI segments who own Garanti BBVA POS.
In order to benefit from the campaign, POS turnover must have been passed within the last 3 months.
Each customer can benefit from the campaign unlimitedly.
Cancellation and refund procedures will be considered. Bonuses earned in cases of refund and cancellation will be refunded.
The earned Baydöner Bonuses will be loaded on 17 October and can only be used at Baydöner restaurants between 19 October - 1 November. Unused Baydoner bonuses will be withdrawn on 2 November.
The campaign includes Bonus Business, Bonus business American Express, Dragon Bonus Business and Easy cards.
Restaurants not included in the campaign: Mavibahçe, Hilltown Karşıyaka, Ordu Novada, Forum Trabzon, Samsun Piazza, Samsun Bulvar, Ankara Kızılay, Manavgat Novada, Manisa Magnesia, Kuşadası Cadde, Bursa Kent Meydanı, Edremit Novada, Mark Antalya, Akyaka Park, Edremit Cadde, Gordion, Samsun City Mall, Margi Edirne, İyaş Park, Arenapark, Sivas Primemall, Cizre Park AVM, Didim Cadde, Vega İstanbul, Alsancak, Bayraklı Cadde.